For the brave
among us
Spice up
your life
Gin not to Tonic
Spicy Fox is a traditionally distilled premium gin clear in colour that packs quite a punch. 
With its 46° and spicy character, its pleasant taste continues for quite a while after drinking it even when combined with tonic water. A gin with quite a punch just as the person who made it happen and gave the gin its name: Betty Devos. The black bottle with a golden print emanates class and is a true eye-catcher.  In a restaurant, at a bar or simply in your living room.
Habanero pepper
gives Spicy Fox its hot punchy taste
Rosemary
for a tasty subtle aromatic aroma
Bergamot
gives it an exotic taste
Eucalyptus
guarantees a fresh taste
Devil's claw and bearded iris
guarantee the right body and balance
Rhubarb
gives the gin a sweet taste with a fruity accent
Hotel Jan Brito
Freren Fonteinstraat 1
8000 Brugge
B2B Young Charly
Antwerpsesteenweg 61
2630 Aartselaar
Since her 40th birthday was not something she was looking forward to. And she did want it to be something positive. Because they are both gin lovers. Because they just cannot sit still as driven business people and hotel operators. This is why Betty Devos (The Fox) and Dimitri Thirion decided to put their own gin on the market. The first premium gin from Bruges.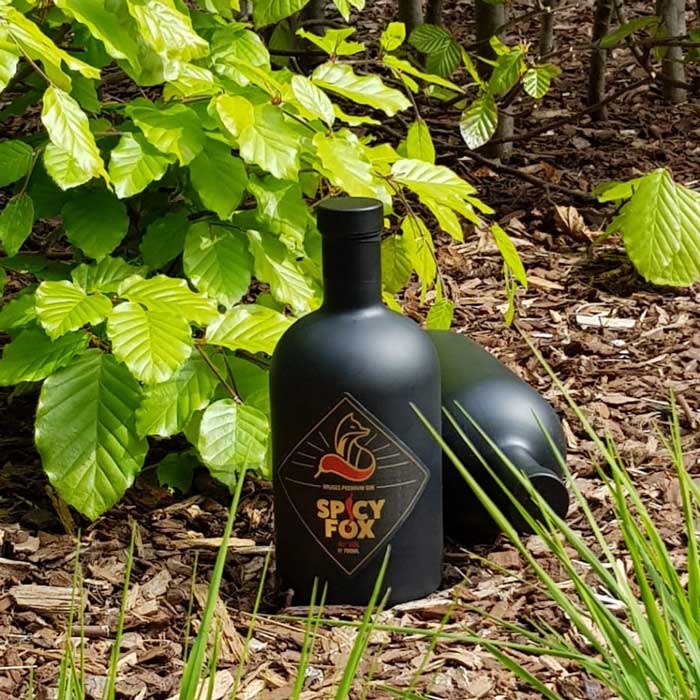 There is not much difference really between 38 and 39, but my head thinks differently… It really started to mess with my head. It became so bad that everybody knew I wasn't looking forward to 2021. Let alone in these bizarre coronavirus times. To change these negative vibes into something positive, I went in search of a way to look forward to that day in some way. It had to be something that reflected both my story and who I am. I see life as a TGV train that is reaching its cruising speed. The train slowly gets up to speed during the first 100 kilometres, but, as it travels, the velocity and swing are achieved. You do not consider it until, along the way, obstacles make you stop and do it. They start to become bigger and bigger.
 Now, the TGV is at cruising speed. With the power, will and spunk to go further. Determined to reach its destination.
Would you like to ask us something about Spicy Fox?